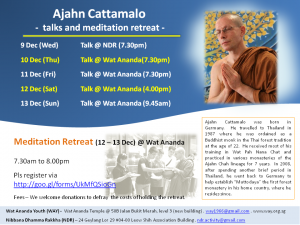 Talks
9 Dec (Wed)   Talk @ NDR (7.30pm)
10 Dec (Thu)   Talk @ Wat Ananda(7.30pm)
11 Dec (Fri)   Talk @ Wat Ananda (7.30pm)
12 Dec (Sat)   Talk @ Wat Ananda (4.00pm)
13 Dec (Sun)   Talk @ Wat Ananda (9.45am)
Meditation Retreat(12 – 13 Dec) @ Wat Ananda
7.30a to 8.00pm
Pls register via http://goo.gl/forms/UkMfQSioGn
Fees – We welcome donations to defray the costs of holding the retreat.
(Please visit our website nearer the date for any changes to the programme.)
Ajahn Cattamalo was born in Germany.  He travelled to Thailand in 1987 where he was ordained as a Buddhist monk in the Thai forest tradition at the age of 22.  He received most of his training in Wat Pah Nana Chat and practiced in various monasteries of the Ajahn Chah lineage for 7 years.  In 2008, after spending another brief period in Thailand, he went back to Germany to help establish "Muttodaya" the first forest monastery in his home country, where he resides since.
 Wat Ananda Youth (WAY) – Wat Ananda Temple @ 50B Jalan Bukit Merah, level 3 (new building) . way1966@gmail.com . www.way.org.sg
Nibbana Dhamma Rakkha (NDR) – 24 GeylangLor 29 #04-00 Leow Shih Association Building . ndr.activity@gmail.com