:: ALL Are Welcome ::
Wat Ananda (50-B Jalan Bukit Merah)
Ve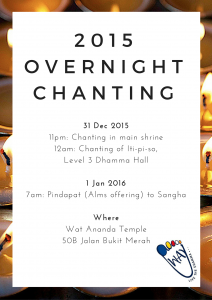 nue: Meditation Room, level 3 (new building)
COUNTDOWN TO 2016
PROGRAM OUTLINE AS FOLLOW:
31 Dec, Thurs
11pm: Chanting in the main shrine
1 Jan, Fri
12am
: Chanting of Iti-pi-so at Level 3, Dhamma hall of new building
7am: Pindapat (Alms offering)
$10/pax to defray the costs of the event. Fruits and candles will be provided.
Light refreshments will be provided throughout the night. You are also welcomed to bring food to share with fellow brothers and sisters in the Dhamma.
Suggested items for alms-offering: 3-in-1 coffee/tea/milo, tea leaves, towel, toothpaste/toothbrush, biscuits, medicated oil/cream
Please check our website nearer the date for any unforeseen changes to the above. Thank You.