Luang Por Viradhammo will be in Singapore in Jan 2015 and there will be talks at the Dhamma Wisdom Centre on :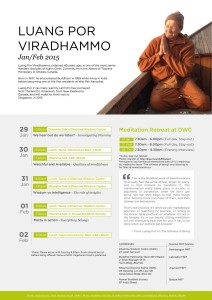 29 Jan, 7.30pm :  We hear but do we listen? – Investigating the Dhamma
31 Jan, 7.30pm : Wisdom vs Intelligence – the role of insights
Meditation Retreat on 31 Jan and 1 Feb 2015, 7.30am to 6.00pm.
Please register via http://tinyurl.com/LPVretreat.