MAY 2015 – Talks by visiting Ajahns @ Wat Ananda Temple ( level 3 new building dhamma hall ):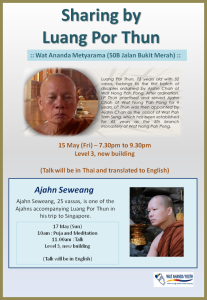 1) Luang Por Thun (52 vassas)
– 15 May 2015 (Fri), 7.30pm
Luang Por is one of the first batch of disciples ordained by Ajahn Chah at Wat Nong Pah Pong.  He was appointed by Ajahn Chah as the abbot of Wat Pah Tam Seng, the 5th branch monastery of Wat Nong Pah Pong.
Photos of Luang Por's trip to Singapore.
2) Ajahn Sewang  (25 vassas)
– 17 May 2015 (Sun) – 10am Puja/meditation , 11am starts dhamma talk
3) Ven Kai Zhao – 27 May (Wed), 7.30pm
Topic – Method 2: Temporary elimination of defilements through concentration (talk will be in Mandarin)