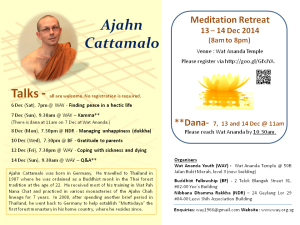 Ajahn Cattamalo is back again this year and will conducting a weekend retreat in Dec.
Meditation Retreat – 13 and 14 Dec (Sat and Sun)
Time – 7.30am to 8pm
Costs – FOC.  Donations are welcomed to defray the costs of running the retreat.
Dana – If you wish to offer dana to Ajahn, please reach before 10.45am.
Venue – Wat Ananda Temple @ 50B Jalan Bukit Merah
Registration (29Nov – Closed due to overwhelming response.  Thank you.) 
(If any enquiries, please email to way1966@gmail.com.)
Talks
6 Dec (Sat), 7pm @ WAY – Finding peace in a hectic life
7 Dec (Sun), 9.30am @ WAY – Kamma
(There is dana at 11am on 7 Dec.  Pls reach before 10.45am.)
8 Dec (Mon), 7.30pm @ NDR – Managing unhappiness (dukkha)
10 Dec (Wed), 7.30pm @ BF – Gratitude to parents
12 Dec (Fri), 7.30pm @ WAY – Coping with sickness and dying