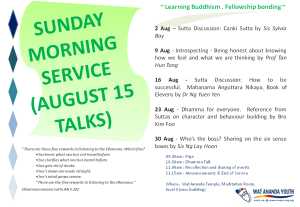 :: ALL are welcome ::
Wat Ananda (50-B Jalan Bukit Merah)
Time: 9.45am to 11.15am
Venue: Meditation Room, level 3 (new building)
2 Aug – Sutta Discussion: Canki Sutta by Sis Sylvia Bay
9 Aug – No Sunday Service (Please note that there will be no Service on this day.)
16 Aug –Sutta Discussion: How to be successful.  MahanamaAnguttaraNikaya, Book of Elevens by Dr Ng Yuen Yen
23 Aug – Dhamma for everyone.  Reference from Suttas on character and behaviour building by Bro Kim Foo
30 Aug – Who's the boss? Sharing on the six sense bases by Sis Ng Lay Hoon
Lunch dana to the Sangha at 11.15am. Please bring some food to offer and reach by 10.45am.