Who is Wat Ananda Youth
Wat Ananda Youth (WAY) was formerly known as the Ananda Metyarama Buddhist Youth Circle.  We organise activities for the Buddhist youth and also, for those who are keen to learn about Buddhism.
In 2006, on its 40th Anniversary, AMBYC decided to reinvent itself to appeal to the youth of the 21st century. We revisited our objectives and programmes and decided to change our name from AMBYC to Wat Ananda Youth (WAY), a catchy name which is easy to remember and reflects our roles and vision.
WAY continues to hold most of its activities in Wat Ananda Metyarama Buddhist Thai Temple. The Buddhist youth group continues to maintain a symbiotic relationship with the Thai temple which has been established since 1966.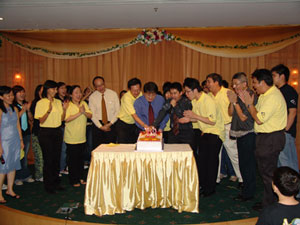 Our Vision
To propagate the dhamma through spiritual friendship and practice-focused interest groups.
Our Logo

The footprint symbolizes the "Buddha's Path". The letter "Y" blend in nicely with the footprint graphic, depicting the "WAY" concept. The FIVE colours are used to depict Buddhism. The logo as a whole has a lively feel which epitomizes the energy and vibrancy of the youth.
Our pillars
We organise our activities around these pillars:
Sunday Morning Service (SMS)
Forest WAY
Community Service
Young Buddhist Chapter (YBC)
Ehipassiko Chanting Group (ECG)
To know more about the individual pillars, please refer to the menu items.
History of WAY
WAY was formerly known as the Ananda Metyarama Buddhist Youth Circle (AMBYC).  It was born on 23 November 1966 and was the first Buddhist Youth Circle in Singapore. Maha Somkuan Aggadhamma (Phraku Bisaldhammanides) became the first Spiritual Advisor. On 28 November 1966, His Excellency, Mr Payong Chutikul the Royal Thai Ambassador officially declared the opening of AMBYC.
30 years since its inception, AMBYC is proud to record many memorable events and contributions to Buddhism and preserving the Thai Theravada Tradition in Singapore. In 1996, we introduced a New Logo to create a new look which stresses the importance of the Learning, Practising and Sharing of the Buddha's Teaching.

   AMBYC logo
This noble task of propagating the Buddha's Teaching with the following objectives were laid down in the constitution:
To study, practise and propagate the Dhamma.
To train the youth for, and encourage them in acts of, charity and general helpfulness to their fellow beings.
To educate the youth to become better members towards society.
To foster co-operation among Buddhist Youth and fellow beings.
To lead a decent and moral social life
To participate in healthy recreations.
Management Committee (2016)
Patron: Kweh Soon Han
Patron: Tee Koon Tiong
President: Phanom Sinth Suwanarat
Vice President: Ng Wei Meng
Hon General Secretary: Wee Yirong
Hon Treasurer: Novita Adisutanto
Assistant Hon General Treasurer: Claudence Cheh
Member: Tay Bee Sian
Member: Alvin Lian
Member: Lim Po Cu
Member: Chio Khee Teng
Member: Patrick Yong
Member: Jimmy Voon
Member: Vicky Riana
Member: Yong Han Beng
Member: Wan Ming Long