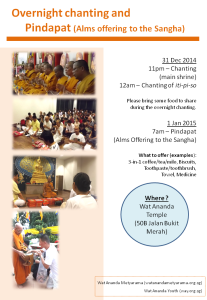 Let's usher in 2015 together on 31 Dec!
Programme:
31 Dec, 11pm – Chanting (in main shrine)
1 Jan,12am – Chanting of Iti-pi-so (in new building)
1 Jan, 7am – Pindapat (Alms offering)
Venue: Wat Ananda Temple (50B Jalan Bukit Merah)
ALL are welcome!  Please bring some snacks/food to share during the overnight chanting.